Genoa Bay Farm
By: Ron Greene
(From Transactions of the Canadian Numismatic Research Society, Vol. 4, 1968, p.43. Reprinted by permission).
Genoa Bay Farm is situated in a very pretty little valley overlooking Genoa Bay about eight road miles east of Duncan. The farm is owned and operated by Mr. & Mrs. Thomas H. Lines. Mr. Lines is a lawyer in Duncan. Mrs. Lines and some hired help ran the dairy until last December ( i.e., 1967) when the producing head and the milk quota were sold. The delivery route was abandoned to Palm Dairies of Duncan.
The dairy was started in 1946 delivering in the close-by Maple Bay area, later expanding to Duncan. The all-Guernsey herd averaged twenty-five producing head in recent years. The milk was sold only in one grade, 4.5% butterfat, and was sold raw.
Originally rolls of tickets were used but about 1953 a travelling salesman supplied aluminum tokens in one pint and one quart values (a, b, c & d). Although there are two varieties of the one pint and of the one quart tokens, the Lines only recall one order of the tokens. In recent years, the quarts were in short supply and in 1965 the larger, uniface token (e) was ordered.
A reasonably plentiful supply of each token is available. Tokens a) and b) have 9 scallops and measure 26½mm. Tokens c) and d) measure 23½mm while e) is incuse, uniface and measures 29mm.
(From The British Columbia Token Database by Ron Greene, 2002. Used with permission):
Cat. No. Description Metal Rarity Shape Size
G0510a Genoa / Bay / Farm
Good For / 1 / Pint Milk Aluminum R3 Scalloped-9 26½mm
G0510b Genoa Bay / Farm
(as last) Aluminum R3 Scalloped-9 26½mm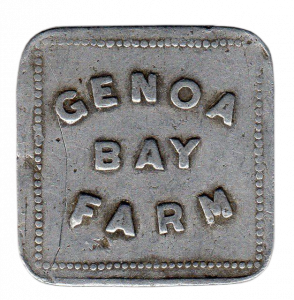 G0510c Genoa / Bay / Farm
Good For / 1 / Quart / Milk Aluminum R3 Square 23½mm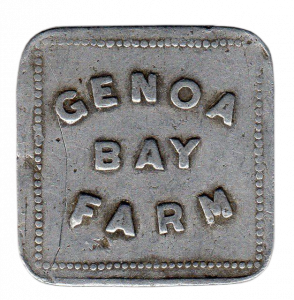 G0510d Genoa Bay / Farm
(as last) Aluminum R3 Square 23½mm
G0510e Genoa / Bay Farm / One / Quart
(uniface, incuse letters) Alum, black lett. R3 Square 29mm
Previously printed in the MICC Numismatic Journal Vol-02, Issue-08