The Mid-Island Coin Club
Celebrating 20 years with a Commemorative Medal
MICC History
It was a December 11, 2001, nineteen individuals gathered at the Pizza Hut restaurant in Nanaimo, BC for hot food and to discuss their shared passion of collecting coins. Before the evening was over, sixteen memberships were signed, three of those being husband and wife memberships. Thus began the Mid-Island Coin Club (MICC).
Now the club has grown to more than fifty-five members on the books, averaging thirty members regularly attending meetings. The members range in age from 12 years to eighty-plus years. Collectors' interests range from ancient coins (Greek and Roman) to all years of Canadian, US, and world coins (Britain, Europe, and Asia) as well as errors and varieties of paper money and coins. Club members possess an impressive knowledge base and can answer questions on just about anything.
10th Anniversary Token – Designed by: Rob Tallone
Celebrating 20 years
In April 2019, the Mid-Island Coin Club (MICC) sent out an invitation to its members to let their creative talents go to work. This was an invitation to create a conceptual design for a commemorative Token in celebration of 20 years serving the numismatic community on Vancouver Island.
Three entries were received for consideration. It was at a general meeting held in September that the MICC members had their opportunity to vote for the winning concept.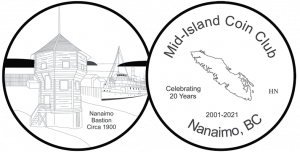 Winning design – submitted by MICC member Henry Nagtegaal.
2nd Conceptual Design
Submitted by MICC member Derrick Marven.
3rd Conceptual Design
Submitted by MICC member Murray Lee
The winning concept was submitted by Henry Nagtegaal and the runners-up were submitted by Derrick Marven and Murray Lee.
20th Anniversary Token – Designed by: Henry Nagtegaal
The image portrayed on the medals reverse is the historic Nanaimo's Bastion with the Canadian Pacific Railway Co's #44 SS City of Nanaimo Steamer at dock on Nanaimo's picturesque waterfront. "circa 1900"
Nanaimo's Bastion
Nanaimo's Bastion is the last remaining wooden Hudson's Bay Company bastion in North America.
Construction of the 11-metre high wooden, octagonal Nanaimo Bastion – a type of fortification first seen in the mid-15th century – began in February 1853.
It was designed as a refuge for Hudson's Bay Company (HBC) workers in Nanaimo, which was known as Colville until it was renamed in 1860.
The bastion's roof was made of clay, reinforced with cedar bark and painted with lime fabricated from clamshells. In later years, it was refurbished with handmade cedar shingles. The bastion's eight openings covered by heavy shutters made of two-inch planking, and long-barrelled rifles could be fired through slits above the openings. A single entrance on the main floor was covered by a massive plank door on heavy hinges, and a bell hung above the main entrance.
The HBC used the first floor as an office and store; later, it served as Nanaimo's jailhouse. The second floor was the defence arsenal and stored grapeshot and canisters while trap doors on the building's sides concealed two six-pound cannons. The guns were primarily used for firing salutes or to announce the arrival of James Douglas, the first governor of what was then the colony of British Columbia. Occasionally, the cannons were fired into the forest across the harbour to intimidate First Nations communities.
The largest level on the third floor sheltered settlers and offered a vantage point to fire down upon foes.
The bastion's construction was completed in 1854, but before the end of the century – in 1891 – it was moved across the street. Finally, in 1974, it was relocated to its present location at 98 Front St., in Nanaimo's "old city quarter."
The first move was at the request of the owner, who bought the land; the second was when Front Street was widened. Later, when the bastion was threatened with demolition, Nanaimo residents banded together to have it moved.
Designated a Municipal Heritage Building on Dec. 2, 1985, the bastion is the oldest building in Nanaimo and the oldest surviving HBC building of its type in North America.
It's now managed by the Nanaimo Museum and is open to visitors throughout the summer.
Medals now available for purchase…
The Mid-Island Coin Club has a "limited number" of 10th & 20th Commemorative Medals as well as Wooden Nickels available for purchase, If interested you can contact:
Gold Silver Guy, 615 Townsite Rd, Nanaimo, BC V9S 1L4
or email Mid-Island Coin Club by using our contact forum.